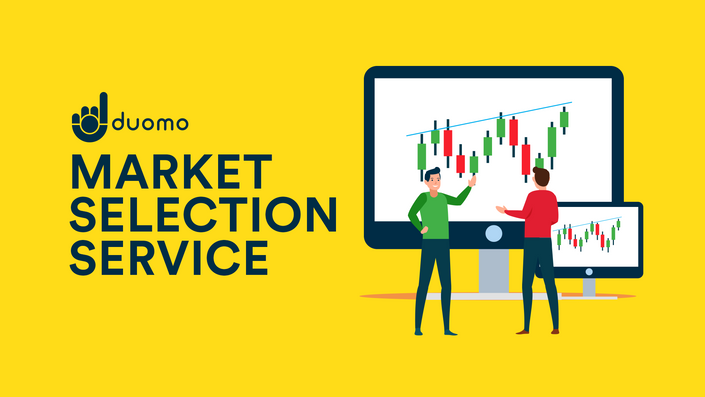 The Duomo Market Selection Service (Beta)
Get updates on which markets we're following... because great markets lead to great trades!
Watch Trailer Video
Get regular video updates informing you about which market we are following for that trading session and why it is the right market. Progress your learning with The Duomo Method by seeing practical examples of what you should be doing.
You wouldn't waste time trying to fit a square peg in a round hole. You know it won't fit.

Yet when it comes to trading, we see traders every day trying to find opportunities in unfavourable market conditions.
That's like digging for gold in the middle of an industrial estate... you're just wasting your time and burning through your resources!
Many traders are choosing markets based on a random selection, gut feel or some other factor that really shouldn't be influencing their choice.
Instead, if you find the right market, you're more likely to find a great trading opportunity.
That's where we want to help...
We believe market selection is half the battle when it comes to trading. If you get that part right, there's more chance of the rest of the process falling into place as well.
Therefore, we want to help you identify the best markets to trade, to help you progress your learning and improve your overall trading results.
By showing you the markets we're focusing on for a particular trading session, we hope to guide you on your journey and eventually lead you to the point where you're able to find the right markets by yourself.
Frequently Asked Questions
What does this service include?
Short videos (usually 1 to 5 minutes long) explaining which market we will be focusing on for that trading session and why. There will also be occasional updates during the trading session about that market and any new insights. These videos will depend on when there are markets we are following. Therefore, sometimes there will be a video every day, whereas on other occasions there may be no video if there is no market we are following that day (usually because the price is not near any major levels for the markets we monitor).
What is the purpose of this service?
We will be showing you exactly which market we are following for that trading session. This is intended to help you find the right market to focus on. It is not intended to point out specific trade entry opportunities, as you will still need to find these for yourself based on that market. Trades should NOT be opened simply based on the videos. These are just pointing out our own market selection and is not intended as investment advice or any suggestion that there is a trading opportunity available.
Which markets will be included?
We currently have 18 markets on our watch list, but some markets may rotate in and out of this. Major currency pairs, indices and commodities are included, as well as some highly tradable assets outside the major markets.
Who will benefit from this service?
This is intended for people trading intra-day or intra-week. It is more useful for people learning the Duomo Method, but it can also be useful for other trading methods as well. Since we are only identifying appropriate markets, the trader can then use this information to find their own opportunities within that market using whichever method they choose.
Why is this a 'beta' version?
We expect to be changing elements of this service and providing more benefits and features in the future. Therefore, this is currently in 'beta' mode and may be subject to change. With this in mind, we would appreciate your feedback about things you would change or would like to see included. If you have feedback, please email us at
[email protected]
How can you learn more about our method?
We have a full online course available at https://www.duomoinitiative.com/onlinecourse however, we suggest that anyone interested in learning first starts with our YouTube channel or our free mini-series which you can find at https://www.duomoinitiative.com/freetradingtools
This course is closed for enrollment.
Disclaimer:
HIGH RISK WARNING: Trading carries a high level of risk that may not be suitable for all investors. Leverage creates additional risk and loss exposure. Before you decide to trade, carefully consider your investment objectives, experience level, and risk tolerance. You could lose some or all of your initial investment; do not invest money that you cannot afford to lose. Educate yourself on the risks associated with trading, and seek advice from an independent financial or tax advisor if you have any questions.
ADVISORY WARNING: The Duomo Initiative & PuriCassar AG (referred to as PuriCassar AG) provide economic and market information as an educational service to its clients. Clients are advised to carefully consider the opinions and analysis offered in the videos or other information sources in the context of the client's individual analysis and decision making. Past performance is no guarantee of future results. Any news, opinions, research, data, or other information contained within this website is provided as general market commentary and does not constitute investment or trading advice. PuriCassar AG expressly disclaims any liability for any lost principal or profits without limitation which may arise directly or indirectly from the use of or reliance on such information. As with all such advisory services, past results are never a guarantee of future results.